We make no compromises as to quality.

The very best of products can only be made from equally excellent ingredients able to fire even the most demanding of connoisseurs with enthusiasm. That's why we do not leave anything to chance when selecting our raw products. In the traditional Swiss manner, we verify the tiniest of details and accept nothing that does not perfectly meet our expectations and demands. Thus we only use, for instance, top-grade cacao beans from the most famous producing regions of the world: Ivory Coast, Ghana, Venezuela, Ecuador, and Santo Domingo. Just to ensure that every single piece of Chocolat Nogal will turn into the ultimate sensation of taste and perfect flavour.
Wenn es um Qualität geht,
kennen wir keine Kompromisse.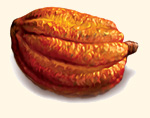 Nur aus allerbesten Zutaten lassen sich allerbeste Produkte herstellen, die auch noch so verwöhnte Geniesserinnen und Geniesser verzücken können. Darum überlassen wir schon bei der Auswahl der Rohprodukte nichts, aber auch gar nichts dem Zufall. Wir prüfen gut schweizerisch jedes kleinste Detail und lassen nichts durchgehen, was nicht exakt unseren Vorstellungen und Ansprüchen entspricht. So verarbeiten wir zum Beispiel nur erstklassige Kakaobohnen aus den berühmtesten Anbaugebieten der Welt: Elfenbeinküste, Ghana, Venezuela, Equador und Santo Domingo. So dass für Sie jedes Stück Genuss von Chocolat Nogal ein unvergessliches Geschmackserlebnis ist.